Saturday, May 26, 2007
---
Friday, May 25, 2007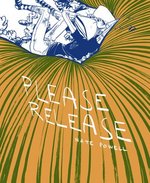 Please Release
-- A few years ago, an excellent self-published alt-comix title called
Walkie Talkie
impressed the hell out of me with its attention to craft and devotion to setting a mood in its individual stories. It lasted four issues, and I wish I had raved more about it at the time. Consider this an apology.
Walkie Talkie
's creator was
Nate Powell
, who has now created a tighter and even more appealing anthology of four short stories called
Please Release
, published by Top Shelf. All the stories take place during a period from 2002-2005 in which Powell, working as support staff for people with developmental disabilities, seems to be struggling with two goals. One, to be an ethical force for the betterment of the people under his care, and two, to determine his place in the world (the world of comics, and just,
the world
) as he enters early middle age, a period he sharply brings into focus when he says (quoting song lyrics, I think -- there's a lot of that mostly to good effect) "I never felt brand new, just half-done and one-third through." It's a mindset I think most adults who've emerged alive from the hot flush of adolesence are familiar with, wondering what the passions of youth and early adulthood will be replaced with, fearing the answer is "nothing much."
Not all the stories focus directly on Powell's support staff role, although the sense of dignity and thoughtfulness he brings to the job informs every panel in the book.
Walkie Talkie
was the work of a younger man, and though both young and somewhat-older Nate define themselves by a punk aesthetic, in
Please Release
, Powell is found reflecting on the use of that definition as boundary markers for his own existence, not so much questioning its usefullness as its shelf-life, or at least its half-life. The artwork is uniformly striking, both loose and highly focused, staking out territory intersecting somewhere in the lovingly illustrative neighbourhood of Farel Dalrymple and Jim Rugg.
So, yeah, Nate Powell as depicted in his own comics is a reflective guy, and Christ knows right now the world needs more people asking themselves questions about their own motives, deeds and ultimate goals. Society -- the one I live in, anyway -- has come to be defined not by the good deeds you do, but by how many people you can convince that your deeds are good, despite their blatant harm to others, and to the world. Powell spends his time in these four elegant, meandering stories trying to be better, trying to help, trying to
share
. In fact, counseling a troubled young man upset by a relative's illness, Powell says others "have felt the same things as you, that's why sharing is important." Another symptom of the sickness so rampant in my part of the world right now is the demonizing of others, the shutting down of sharing and the opportunistic destruction of those who've been demonized and marginalized and made other. So I'd guess at the very top of my country's food-chain, humanistic storytellers like Nate Powell would be defined as dangerous, if not outright "enemy combatants" in a war of lies against our fellow humans.
Powell comes off as
decent
in
Please Release
, and we currently live in
indecent
and
obscene
times. All the more reason to read
Please Release
and listen to what Powell is trying to tell us. Pass on what you've learned, cherish human dignity, and from time to time luxuriate in the wonder that comes with being more fully alive.
Labels: reviews
---
Monday, May 21, 2007
---
---
---