Sunday, June 15, 2008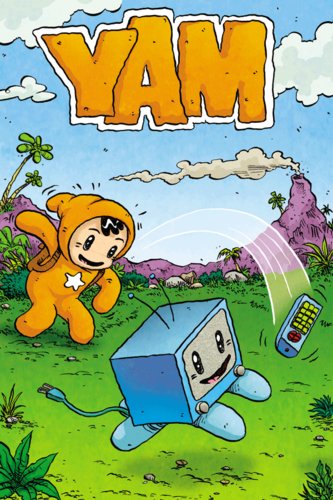 Yam: Bite-Size Chunks
--
Top Shelf
is looking to give young
Owly
fans something else to read, and
Yam
is an engaging and beautifully drawn incursion into that demographic.
It's super,
super
,
SUPER
-cute stuff, but the mini-adventures the little guy gets into are visually interesting and inventive enough to hold the interest of an older reader too.
I was most impressed by the cartooning. Corey Barba's ink line is confident, crunchy and a little addictive. I couldn't stop looking at how he shades and defines the objects and creatures he depicts -- a little Rick Geary noodling here, a little Jim Woodring hatching there, it all adds up to something gorgeous to look at.
And like I say, it's fun, too. If you can't count your age using just your fingers, the stories may or may not stick with you, but Barba's art is well worth looking at for comic art fans of any age and inclination.
Yam: Bite-Size Chunks is available from Top Shelf Productions.
Labels: reviews
---
---
---
---
FEATURED RESOURCES
Banks are regarded the best option for making a safe investments as well as having world wide accepted creditcard. People are not only facilitated by loans but also provided debt management consolidation by the leading banks. Students can also get loans as well as apply for student loan consolidation. At the same time high flying insurance companies also contribute to the any one's life through offering different plans of life, health and dental insurance. Along insurance of life one can also enhance its home security through installing latest home security systems.
---