Tuesday, March 16, 2004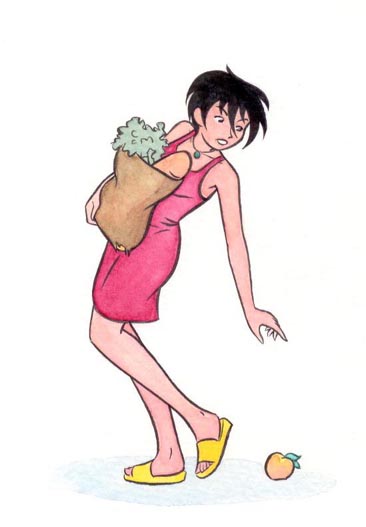 Colleen Coover
--
Small Favors
is the most fun pornography money can buy, so over-the-top in its exhuberant sexuality that it comes back around to innocent again. I was delighted its creator decided to answer the Five Questions.
Is doing a magical lesbian comic a lifelong dream come true?
Doing a comic is, yes! The rest came later.
I've always wanted to do comics; one of my earliest memories is drawing scribbly little "Batman" strips at my Great-Grandmother's house. It just happens that the first major work I've done in comics is an erotic romantic comedy.
Small Favors came about at a time when I was ready to start working on comics seriously. I looked around and saw that there were damn few adult comics for women to enjoy. I prefer all-girl action in my porno, but with very few exceptions Sapphic sex is generally treated as voyeuristic entertainment for men. The whole "looking through the keyhole" thing. So I would often find myself, a woman watching or reading girl/girl porn, being addressed by the director or creator as though I were a man. I felt I could make a book that women like me would like, without alienating a male readership.
But my first priority has always been not to create a porno comic but to create GOOD comics. My next project, which I'm working on now, is for readers of all ages. It's called Banana Sunday, written my boyfriend and creative partner Paul Tobin, with all the art by me. It's a high school adventure with comedy and romance and monkeys! I'm really excited about it.
Have you ever thought up a story or scenario for Small Favors that you decided was too wild to print?
Well, you know, it's all stuff that I find sexy, so I don't ever have to stop myself and go "Whoa! Too far!" After all, my main character is a young woman in love with her own personified conscience, who varies between being six inches tall and normal girl-size, and sports absurdly large pigtails!
I do have criteria for what can and cannot go into the book. I made a decision early on that I wanted women who identify as lesbians to have the same personal access to the fantasy as bisexual women like me. So there are no men in the book. Again, this is not in order to alienate male readers, but to avoid creating that Peeping Tom sort of feeling I mentioned before.
I never include any sex play that would turn me off, just for the sake of including extra kink. Activities that normally involve the use of a toilet, for example, hold no appeal for me sexually, so you won't see them in Small Favors!
Finally, I feel strongly that there in a book created to celebrate the joy and laughter that good sex is all about, there is no place for the darker side of sex. So no jealousies, diseases, unplanned pregnancies, drugs, and ESPECIALLY no violence or rape.
What do you think is behind the near-universal appeal of two cute girls together?
I don't know… I know sex experts have offered all sorts of theories about why straight men like all-girl action, and people say that the majority of straight women admit to being bi-curious, but I don't like to think too much about it. I feel like too much analysis would ruin the fun, you know?
Now, the whole premise of Small Favors is what has become almost a mantra for me: Pretty Girls Make People Happy! And really, it's just TRUE, you know? I'm not talking about sex, here. If you're walking down the street and see a really pretty girl with a zillion-watt smile, it just makes you feel good! You don't have to be consumed with lust to appreciate that.
So it's not surprising that when you put pretty girls in a sexual situation, those same good feelings get sort of transferred over. I think you would need some awfully powerful hang-ups not to get some pleasure out of it!
What's the reaction to Small Favors from your family and friends?
The thing about my family and friends is that they KNOW me! Two weeks ago, Paul and I went to a burlesque show in New York with my sister and her husband. My mother loaned me my first erotic literature (Delta of Venus by Anais Nin) when I was fourteen! (I never gave it back, so I'm not sure "loaned" is the right word…) Nothing I do in a comic book is going to really shock them, and they're very proud of the attention Small Favors has received these last few years.
Most of my friends and associates are either comics professionals or customers at the comics shop where I have my day job, so again, not likely to be surprised by any of the wacky highjinks in my cute little sex comics. And people who have problems with the thought of ladies having happy fun sex together are not people I'd be likely to be friendly with.
When I do get a weird reaction to Small Favors, it's usually from total strangers. I've occasionally heard the comment "you don't think of a woman doing a comic like this…" at conventions and such. I really have no answer to that. They don't mean it to be nasty, I think that sometimes people just forget that girls like to think about sex! And there's a common idea that all porn is exploitive of women, so that can be a tough concept for them to get over.
Who are your favourite comics creators and what about their work appeals to you?
Milton Caniff. All-time favorite. I especially love Terry & the Pirates. His work was so rich; even an expository "talking head" strip would have depth and drama. And action scenes were full of motion and excitement! His cartooning skills gave his adventure-strip realistic style life and dimension. I could write a five-page essay on all the stuff I've learned from studying just one daily strip's original art. As a sucker for romance, I consider him to be one of comics' greatest masters in building romantic suspense.
Los Bros Hernandez. A lot of people have remarked that they can see an influence in my art from either Jaime or Beto. Honestly, I couldn't tell you which of them has influenced me more. I tend to think that it's pretty even. I deeply admire Jaime's technical skill and clean lines, and Beto's more organic art is full of character. The great thing I look to the Bros for is their brilliant sense of design. I've never seen a page from them that didn't work as a complete work of comic art, independent from the rest of the story.
Guy Davis. He's always been so good, and lately he seems to have blossomed into a one-man Art House! I liked his issue of Hellblazer (the young punks of London hearkened back to his lovely Baker Street work) and Deadline was one of my favorite superhero-type stories of the last couple of years. Just this latest issue of Metal Hurlant alone has him doing two completely different, totally brilliant short pieces! I especially liked the Tardi-esque "Photo-taker" story.
Ai Yazawa. Her Paradise Kiss is currently my favorite manga by far! Her art is so pretty and her character designs are so varied and the storytelling is great and clothes clothes CLOTHES! I want to go shopping every time I read!!! More shoes! More skirts! More hair dye!
I could go on forever. Darwyn Cooke's work is so yummy; like Caniff, his illustrative art is rooted in strong cartooning skills. Also Javier Pulido, Jordi Bernet, Cameron Stewart, Dean Haspiel, Craig Thompson, Clifford Chiang, and on and on and on.
Thanks to Colleen for tackling the 5Q -- be sure to visit her Live Journal
.
Labels: five questions
---
---
---
---
FEATURED RESOURCES
Banks are regarded the best option for making a safe investments as well as having world wide accepted creditcard. People are not only facilitated by loans but also provided debt management consolidation by the leading banks. Students can also get loans as well as apply for student loan consolidation. At the same time high flying insurance companies also contribute to the any one's life through offering different plans of life, health and dental insurance. Along insurance of life one can also enhance its home security through installing latest home security systems.
---